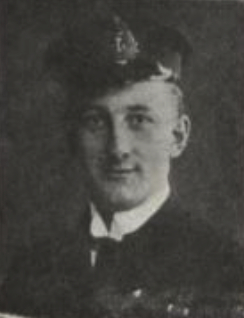 (image from De Ruvigny's Roll of Honour)
William Fraser was born on 18 September 1883, the son of Sir Thomas R Fraser who was a Professor of Medicine at Edinburgh University.
He joined the Royal Navy in 1898 and, as a Sub Lieutenant, he was appointed to the Submarine Depot Ship HMS THAMES at Portsmouth in 1903 'for Instruction in Submarine Boats'.  Promotion to Lieutenant followed in 1904 and he was subsequently appointed to the Submarine Depot Ship HMS FORTH at Devonport 'for Submarines' and later 'for Command of Submarine B9' in 1906. 
He then returned to the Surface Fleet in 1910 for his 'Big Ship' time with an appointment to the cruiser HMS SHANNON.  After this he returned to Submarines and in 1912 took command of HMS D7. 
Promotion to Lieutenant Commander followed and, after eighteen months in command of HMS D7 he was further appointed to HMS DOLPHIN 'for E10 in Command'.  HMS E10 was lost in the North Sea sometime after 18 January 1915. There were no survivors.
William St John Fraser was married to Kathleen Chapman in 1908 and he is commemorated on the Portsmouth Naval War Memorial on Panel No. 7.