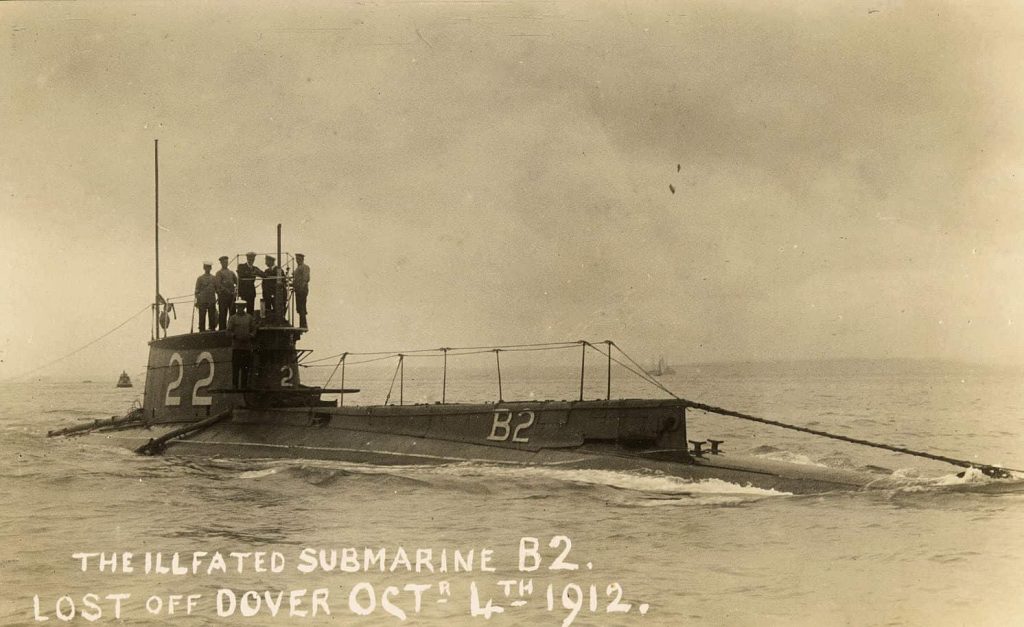 HMS B2 (Lt P B O'Brien) was lost on 4 October 1912 with heavy loss of life. The submarine had just left Dover in company with other units of the Home Fleet, including depot ships HMS HAZARD, HMS MINERVA, HMS FORTH and HMS SAPPHIRE.
As the ships left harbour in the pre-dawn darkness, the Hamburg Amerika liner SS Amerika was on passage from Hamburg to Southampton where she was due to embark passengers before crossing the Atlantic.
B2, on the surface, collided with Amerika, and sank almost immediately. There was one survivor, Lt Richard Pulleyne (q.v.), who was on the bridge when the collision occurred and went down with the boat. He remembered feeling the submarine touch the bottom (at 100 feet depth) and then kicking out for the surface.
Several ships passed close to Pulleyne without seeing him and he was close to giving up when flares from the Amerika attracted another submarine (HMS C16) to the scene which spotted Pulleyne and picked him up.
No attempt was made to recover B2 – this was the first RN submarine not to be recovered.
PEOPLE WHO DIED WHILE SERVING IN THIS UNIT