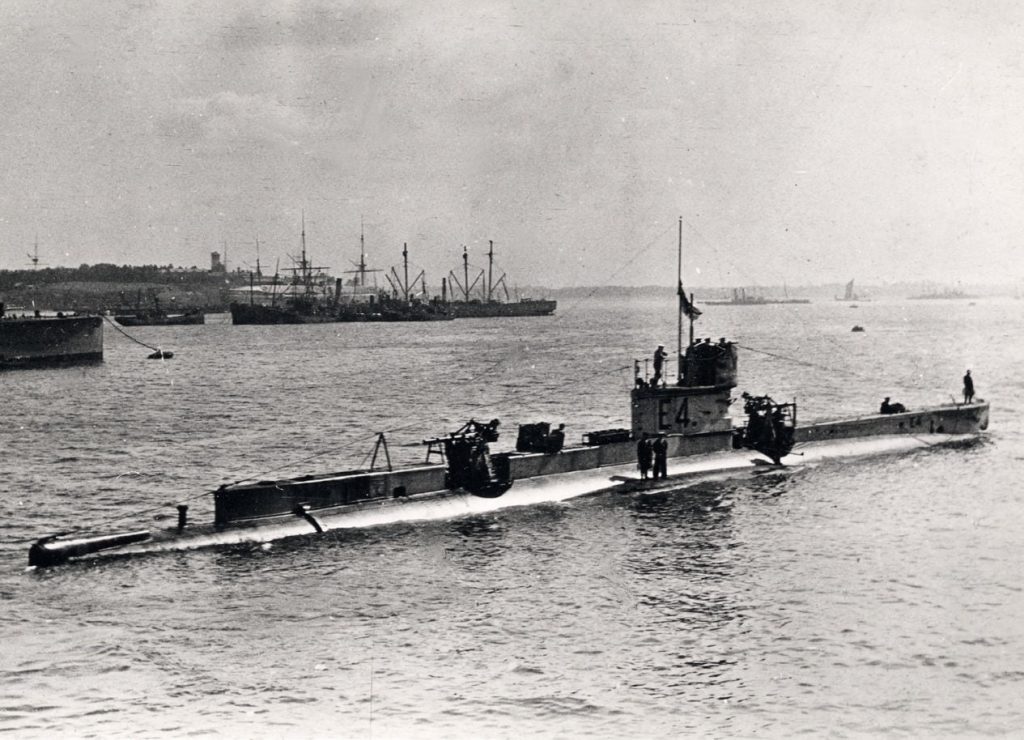 HMS E4 (Lt Cdr E Leir) was part of the 8th Flotilla. At the outbreak of war, the Flotilla was based at Harwich for North Sea patrols and Leir served as the flotilla's Senior Submarine Officer. E4 was present at the Battle of Heligoland Bight in August 1914 and during the action she surfaced to pick up two pilots from a German aircraft and a boat load of nine British seamen plus one officer who had also been trying to pick up the Germans.
On 10 September, E4 attacked the U23 off Heligoland but the torpedo ran under the target. Later that same day E4 missed another U-boat – this time the U25. On 28 January 1915 Leir scored his first success by torpedoing the auxiliary cruiser VAN GOSSLER. In July, E4 was fitted with four 6 pounder AA guns for anti-Zeppelin patrols.
On 15 August 1916 E4 left Harwich in company with E41, E31 and E16 for a series of submarine versus submarines exercises. While running submerged in the target area, E4 (now commanded by Lt Cdr J Tenison) collided with E41 (Lt A Winser) resulting in the loss of both submarines. Both boats were later salvaged and recommissioned. E4 returned to service in May 1917 and was again based at Harwich.
PEOPLE WHO DIED WHILE SERVING IN THIS UNIT