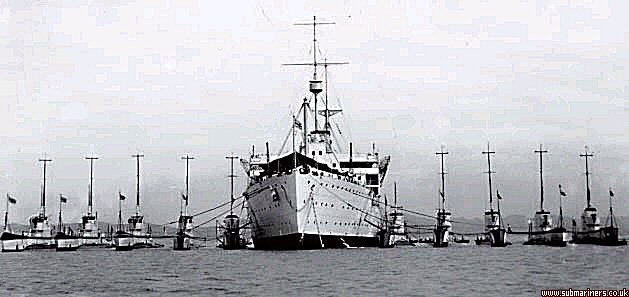 HMS MEDWAY (F 25) was the first large submarine depot ship designed and built for the Royal Navy, commissioned at Devonport in July 1929. The ship was launched on 19 July 1928 as the tenth RN ship to carry the name, which had been introduced in 1693 for a 3rd Rate and used again later for a destroyer sold in 1922.
The ship sailed for the China station together with six O-class submarines of the 4th Submarine Flotilla to replace HMS TITANIA (F 32) and her L-class boats, remaining there until 2 April 1940, when she was sent to the Mediterranean, arriving on 3 May in Alexandria. She was based there to operate the 1st Submarine Flotilla.
At 0824 on 30 June 1942, HMS MEDWAY (F 25) (Capt P Ruck-Keene, CBE, RN) was torpedoed and sunk by U-372 off Alexandria. The ship, with the commander of the 1st Submarine flotilla on board, was escorted by HMS DIDO and seven destroyers. She had been ordered to evacuate Alexandria in the face of the German advance after the Battle of Gazala in May 1942, and was sailing for Lebanon. Thirty men were lost in the sinking, including the 17 submariners listed in this Book.
Much valuable equipment was lost with her, but 47 of her stock of 90 torpedoes floated clear and were recovered. The smaller HMS TALBOT (F 06) moved from Malta to replace her at Beirut, changing her name to HMS MEDWAY II.
PEOPLE WHO DIED WHILE SERVING IN THIS UNIT