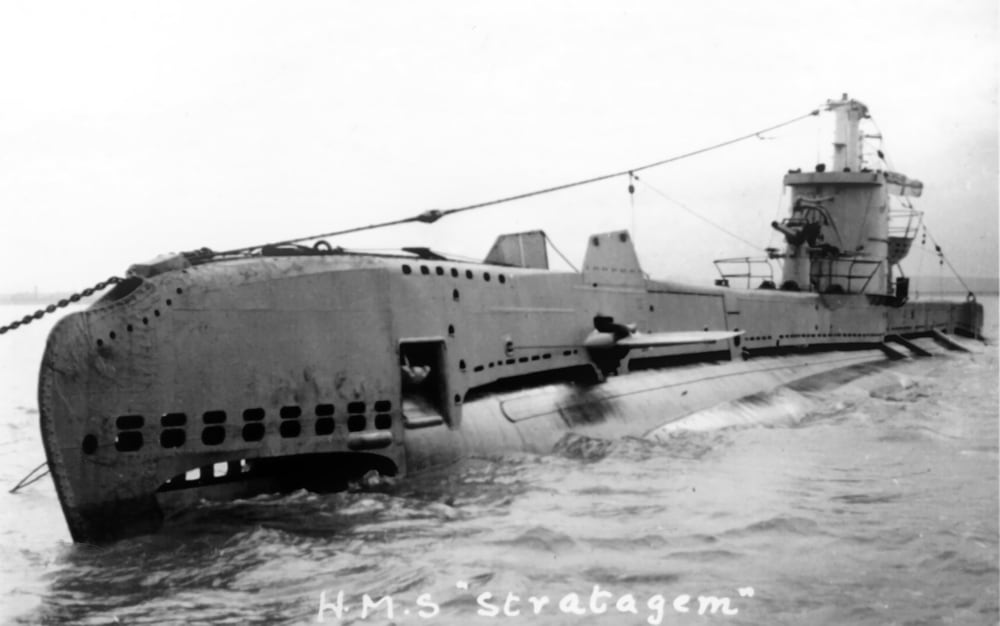 HMS STRATAGEM (Lt C Pelly) sailed from Trincomalee on 10 November 1944. She was due to patrol the Malacca Strait. Pelly had joined just before sailing to replace STRATAGEM appointed Commanding Officer, Lt Cdr M Willoughby, who was unwell. STRATAGEM successfully attacked a Japanese convoy and sank the tanker Nichiunan Maru on 19 November.
Three days later, STRATAGEM was attacked by Japanese destroyers. She suffered flooding but 14 men, including the torpedo officer (Lt Douglas), managed to get into the torpedo compartment. Ten of these men managed to escape (the submarine was in shallow water) and 8 survived the experience. Picked up by the Japanese destroyers, they were treated brutally, being clubbed and beaten.
These prisoners were returned to Singapore and, eventually, to Japan where they were subjected to interrogation and further harsh treatment. The STRATAGEM survivors were eventually liberated on 26 August 1945. Of the eight picked up, only 3 survived to be freed, the others being executed by their captors.
PEOPLE WHO DIED WHILE SERVING IN THIS UNIT