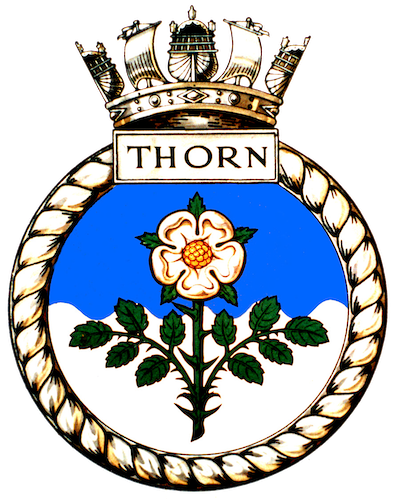 HMS THORN (Lt Cdr R G Norfolk) sailed from Haifa in Israel on her ninth and final patrol on 21 July 1942. She was berthed outboard of HMS OTUS which was due to depart for the UK the following day. THORN passed mail across for delivery at home and was, in turn, wished luck by the ship company of OTUS.
THORN assumed patrol in an area off Tobruk. Meanwhile, the Italian escort Pegaso had been ordered to escort the steamer Istria from Benghazi. Pegaso had sunk HMS UPHOLDER four months before and had a new commanding officer, Lt Mario de Petris. On 7 August, Pegaso sighted a Ju88 strafing the surface of the sea and closed to investigate. A periscope was sighted with a significant wake' it appeared that the submarine was manoeuvring at speed at periscope depth. The periscope was observed for about 2 minutes before it disappeared. Pegaso closed and soon established firm sonar contract. She attacked the submarine seven times before contact was lost and oil and bubbles were seen on the surface.
There were no survivors from THORN.
PEOPLE WHO DIED WHILE SERVING IN THIS UNIT