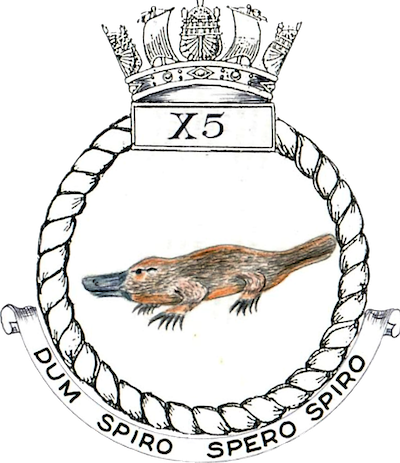 At daybreak on 22 September 1943 off the Norwegian coast, the operational crew of HMS X5 (Lt H Henty-Creer) embarked in the midget submarine X5 from HMS THRASHER that had towed X5 across the North Sea in preparation for the attack on the German Battleship Tirpitz in Kaa Fjord (Operation SOURCE).
X5 was released from THRASHER together with X6 and X7 from their towing submarines (HMS TRUCULENT and HMS STUBBORN respectively) and proceeded to penetrate the fjord. X5 was sighted by X7 after the 3 X-craft had crossed the mined area just before the attack. This was the last definite sighting of X5.
It is not certain what happened to X5, but it is believed that she may have been sunk by Tirpitz 4-inch guns whilst approaching the target. The part played by X5 in the attack is therefore unknown but, sometime after the attack, divers found wreckage possibly (but not definitely) of X5 about 1 mile to seaward of Tirpitz, halfway between her and the entrance to Kaa Fjord.
No bodies or personal gear were found, and of survivors there was no trace.
PEOPLE WHO DIED WHILE SERVING IN THIS UNIT