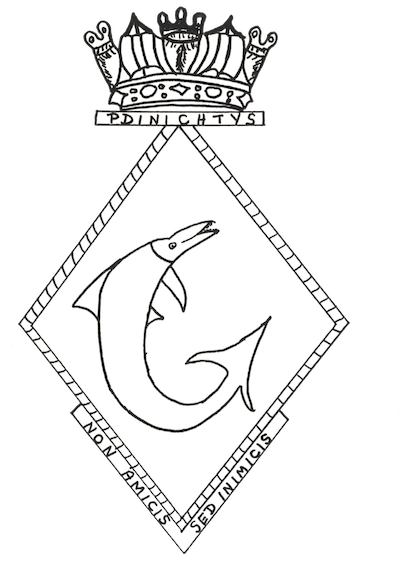 HMS X7, unofficially named Pdinichthys, (Lt B G Place) was towed across the North Sea in preparation for the attack on the German Battleship Tirpitz (Operation SOURCE) by HMS STUBBORN in September 1943.
Place and his crew joined X7 from STUBBORN off the coast of Norway on 22 September and prepared to penetrate the Kaa Fjord where Tirpitz was in a heavily defended anchorage. The X-Craft successfully penetrated the defending minefields and antisubmarine nets and, together with X6 (it is not known what happened to X5 which was also involved in the attack), proceeded to drop their charges under the battleship and withdraw.
However, they were spotted by Tirpitz's crew and attacked during their withdrawal. X7 was abandoned but only the captain survived. Sub Lt Aitken then escaped from the bottom of the fjord, but Whittam and Whitley were unable to get out before their air gave out. Place was awarded the Victoria Cross for his part in this operation, Aitken a DSO.
Tirpitz was heavily damaged and was out of action for 6 months. Lt Place and Sub Lt Aitken were taken prisoner and released at the end of WW2.
Place went on to train as a Fleet Air Arm pilot, flying operational missions during the Korean War. He subsequently commanded several ships, including the aircraft carrier HMS ALBION, and retired from the Royal Navy a Rear Admiral. Aitken died in 2014, aged 91.
PEOPLE WHO DIED WHILE SERVING IN THIS UNIT