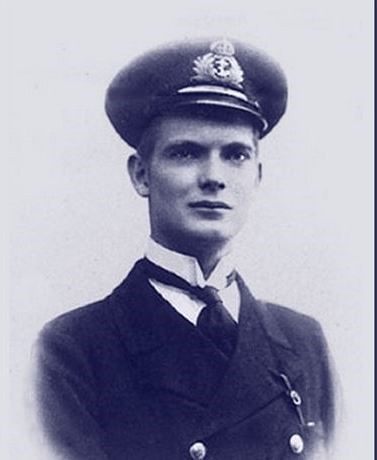 (Image: Imperial War Museum)
William Maitland-Dougall was born on 14 March 1895, the son of Mr James St L Maitland-Dougall and Mrs Winifred Maitland-Dougall of Duncan, Vancouver Island, Canada. He joined the Royal Canadian Navy as a cadet in 1910 and attended the Royal Naval College of Canada in Halifax, Nova Scotia.
In 1914, after time in the Training Cruiser HMCS NIOBE, he was appointed to HMCS CC1 as Third Hand and, in June 1915, to HMCS H10 in build.  In July 1915, H10, in company with H5, H6, H7, H8 and H9 transferred to the UK and HMS DOLPHIN. Maitland-Dougall was promoted Acting Sub Lieutenant, RCN, on 1 December 1915 and appointed to D3 as First Lieutenant in May 1916. In September 1917, as a Lieutenant, he was appointed in command of D1 and, shortly afterwards, in November 1917, to command D3.
HMS D3 was lost with all hands in the English Channel on 12 March 1918, having been bombed in error by the French Airship AT-O.  This was two days short of William's 23rd birthday, although the submarine was not officially listed as lost until 15 March.
William Maitland-Dougall is commemorated on the Victoria Memorial at Vancouver, British Columbia, Canada. 
Captain Alexander Quick, of HMS DOLPHIN, wrote to his aunt: "Their end came quickly and there is no question as to how they would meet it in any vessel commanded by your nephew, and if the loss of his submarine could have been averted by any exercise of professional judgment and skill, then with your nephew in command it would have been so averted"