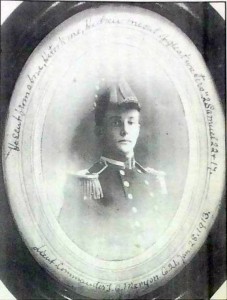 (Image: Friends of Stokes Bay)
Thomas Meryon was born on 2nd October 1886, the son of the late Captain Meryon & Mrs Meryon of 9, The Holt, Alverstoke, Hants.  He joined the Royal Navy at HMS BRITANNIA in 1901.
After time in HMS MAJESTIC and then HMS MONTAGU he was promoted to Sub Lieutenant in 1905 and obtained six First Class Passes in his Sub Lieutenants Examinations.  He was promoted to Lieutenant in 1906, and was appointed the following year to the Submarine Depot Ship HMS MERCURY 'for Training in Submarines'.
After qualifying he was appointed to the Submarine Depot Ship HMS BONAVENTURE in 1908 'for Submarines' but with no specific submarine listed.  On 18 December 1909 Thomas Meryon married Miss Gwenddolen Mary Goodall.
In 1910 he took command of HMS A1 and his next appointment was in command of HMS C21.
Thomas Meryon was lost overboard from C21 on 28 November 1913. C21 was returning to Dundee after carrying out an exercise with two other submarines in St. Andrew's Bay.  A sudden squall hit the submarine, which heeled over.  Thomas Meryon lost his balance and fell overboard from the bridge.  Apparently he was wearing heavy oilskins and sea boots and sank immediately.  His body was not recovered.
He is commemorated by a brass plaque in the Church of St Mary the Virgin in Rye in East Sussex.  The reason for the plaque in Rye Church is unclear as no family connection has been established.  There is also a Meryon Memorial Fountain in Alverstoke, Gosport.