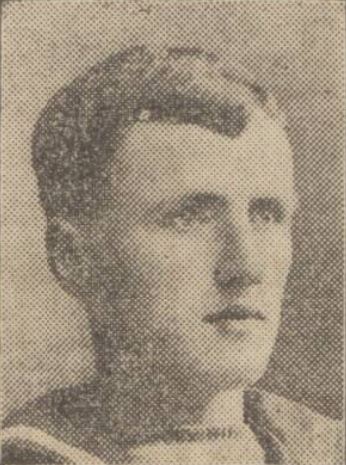 Albert Knaggs was born in Bristol on 12 February 1882 and was baptised on 14 February at St John the Baptist Church. His parents were Henry Stephen Knaggs, a tailor, and his second wife Louisa (née Alderman).  There were eight children, including two from Henry's first marriage; Albert was the second youngest.
He joined the Royal Navy training ship HMS IMPREGNABLE as a Boy 2nd Class in January 1897, giving his date of birth as 12 August 1881, thus making himself old enough to sign up, and previous occupation as 'boot finisher'. After short drafts to various training ships and guardships, he joined the pre-dreadnought battleship HMS ROYAL SOVEREIGN in the Mediterranean in December 1898 where, apart from three months in HMS ILLUSTRIOUS, he remained until August 1902.  He was rated Able Seaman in January 1901. On return to UK, he changed his home port from Portsmouth to Devonport where he spent the next four and a half years between the gunnery ship HMS CAMBRIDGE, the naval barracks HMS VIVID, and the torpedo school HMS DEFIANCE. He qualified as a Torpedoman in May 1903.  In March 1907 he was drafted to the destroyer depot ship HMS BLAKE and then the depot ship HMS LEANDER, and it is likely he served in destroyers until early 1909. In March 1909 he was drafted to the Hong Kong receiving ship HMS TAMAR.  He served on the China station for the next two years, with short drafts to the flagships HMS KING ALFRED and HMS MINOTAUR. In April 1911 he joined the cruiser HMS CRESCENT for the passage back to UK. His twelve year engagement expired in August 1911 and he joined the Royal Fleet Reserve.
According to a newspaper report of his death, he then served as a Police Constable in the West Riding of Yorkshire for two and a half years, but nothing has been found to verify this. The period was in any case shorter, for on 3 March 1913 he joined the Royal Australian Navy London depot on a five year engagement, and at the end of February 1914 he sailed in HMAS AE2 when she departed Portsmouth for Australia, in company with AE1.  His RAN record indicates that he took part in operations in German New Guinea in September 1914, where AE1 was lost. At the end of 1914, AE2 was sent to the Mediterranean and, on 25 April 1915, was the first submarine to penetrate the Dardanelles. After five days however, AE2 was attacked by Turkish forces and forced to surface. The submarine was abandoned and scuttled and the crew were taken prisoner. AB Knaggs was one of four members of the crew who subsequently died in captivity. He died on 22 October 1916 from malaria. He was initially buried at Belemedik, Turkey, but was subsequently re-interred at Baghdad (North Gate) War Cemetery, Iraq.
He left a widow, (Sarah) Annie (née Hendy), whom he had married in December 1905, and they had a son, Albert William, born in 1908.